Editorial Review: Getafe vs Barcelona 1-0, Barca faced their first defeat in Laliga 2020/21
6 min read
Editorial review: Getafe vs Barcelona
Barca were left stunned by Getafe with a 1-0 defeat by Jaime Mata's penalty after a foul by De jong in the penalty area. Sergino Dest got his debut as a LB replacing injured Alba. The defeat means, Barca are at ninth position with seven points after four games, a week before the Clasico at home to Real Madrid, who are on top with 10 points after five matches. Getafe's win puts them level on points with the league leaders. In this editorial review, our editors will have their say about this particular Getafe vs Barcelona game.
ADITHYA
First blood drawn in a tough test.
The trip to the Spanish capital solicited one of the two games against difficult sides from Madrid, which would mark the beginning of the business end of this season. Koeman brought in Pedri and Dembele for Ansu Fati and Coutinho respectively. This meant that Messi cut a lone figure on the right, isolated many a time and sometimes feeling worn-out after the trip half-way around the world to South America. With the games coming thick and fast, the rotations from Koeman will have to be as effective, while maintaining rhythm for his first choice eleven.
In this game, it was obvious Koeman would play a traditional winger in Dembele (who fizzled out after showing promising signs in the beginning) to handle the 1vs1 wide due to the exceptional pressing scheme that Getafe observed. Pedri had a very good game centrally and in between the lines in interpreting space while playing the #10 role, while the second young debutant in Dest had a very interesting duel on the left with Nyom.
Unlike most other coaches in the Barcelona setup, Koeman seemed to step on the peddle (in the attacking sense) much deeper in the half. Still, this change of pace seems to have died down in recent games like Sevilla and Getafe where the lack of a striker has proved difficult to cause much damage with chances coming only after the game opened up towards the end of the second half. It will be surprising if Griezmann still plays the el Clasico after having yet another quiet game (while missing a howler) playing what he assumed to be his best role as a false 9.
MOTM: Pedri.
ABUZAR
A Tough Loss but Horrendous Refereeing Decisions
Getafe away is never easy, and the game proved it. Getafe is one of the most physical sides of the league, and it was there to be seen. Barca, despite rotating heavily after the international break, started on the front foot. Despite some early pressure from Getafe, Barca settled in the game well.
Pedri, despite being just 17, stood out against a physical Getafe side. He played very well and was efficient with the ball. Messi hit the post in the first half after a layoff from Dest, who was also among the standouts. But, Football is a game where chances matter and Griezmann wasn't able to make his count. Despite one on one with the goalkeeper, he skied his shot, and the half came to an end. But, the most controversial moment of the first half was an elbow on Messi by Nyom, on which the foul was given, but not even a yellow card was shown.
Getafe started on the front foot in the second half. And after some clever play from Dakonam, De Jong conceded a penalty. Getafe scored from, and it didn't look like Barca had any Plan B.
But, the game stood out for its controversial refereeing decisions. Getafe was so physical that they committed 20 fouls in total out of which eight were of Nyom who deserves a Red Card. These constant fouls broke the Flow of the game, and VAR didn't intervene in plays like Nyom's elbow and other.
Overall, the play was very disappointing and mainly in the second half. Griezmann again was not involved. It was good to see Dembele, but he has a lot to improve to earn Koeman's trust. Dest was very impressive, but Roberto didn't contribute much at the right. A Whole lot to improve for Koeman as the games are coming thick and fast now.
MOTM: Pedri.
SWAROOP
A controversial loss with some forced reflection
A lot of fans are absolutely mad about yesterday's performance, with the whole game being a concoction of bad refereeing and traditional shithousery. Barca started off with a different 11 to what they've played so far and indeed suffered from the changes made. Dembele on the left and Griezmann at a false nine role really messed up the balance of the game. Griezmann had vocally asked for a more central, leading role which he was given, but failed to convert the best chance of the match from a lovely Pedri through ball.
The lack of link-up play among the forwards was visible, as Griezmann and Dembele are not the best at positional fluidity. They are rather direct players, and both are best when they play in a more faced paced build-up to Barca's. Link up play is crucial to Barca's attack, with the Messi-Coutinho pair in the previous matches moving about intelligently to create overloads, that free up the LAM/RAM to make a run.
This is precisely what Barca lacked, with Messi either playing too deep or too wide and Griezmann not adept enough to drop deep and work to create overloads, Pedri was isolated in the centre and was usually closed down by multiple players. He was brilliant though, progressing the ball constantly and playing on his toes when he was outnumbered.
The problem was Dembele couldn't make runs like Fati or link up like Coutinho.
With the best chance created by Pedri's through ball to Griezmann, which Griezmann failed to convert, the game was also accompanied by bad refereeing and constant fouls that broke Barca's rhythm.
Although Dembele should be given more time since he's only just back from injury, to start him was a risk that didn't pay off. Pedri was outstanding, and Puig really made the difference once he was brought on, but it was too late. Guess we now know that Messi will be playing the false nine from the next match.
MOTM: Pedri.
CONROY
A tale of missed chances
Heading into the game with a 100% record, Dutch coach Ronald Koeman would have easily thought the 3 points were in the bag against Getafe. A team that Barça haven't lost to in previous encounters since 2011. But like always, Football surprised us all, as Getafe got the better of Barça by a goal. With the El Clasico looming only a week away, Barça has some serious homework to do if they want to walk away with the bragging rights in Spain.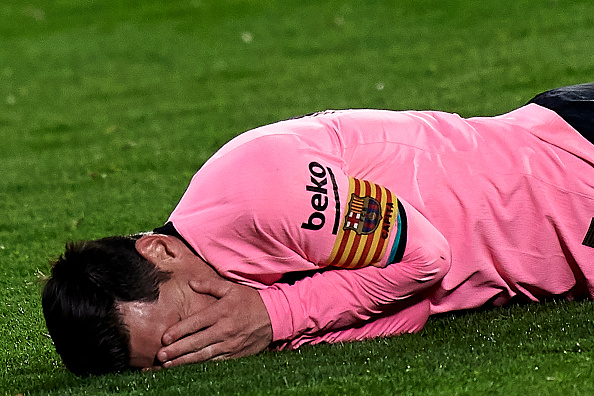 Even though we held 73% of the ball position throughout the game, we couldn't end up getting that ball in the back of the opponents net. A surprising line up for me by Koeman who handed the first-team starts for Dest and Pedri. Into the game, Messi failed to give us the opener as his shot hit the post. Griezmann was given to play in his preferred position by Koeman this game, and he had a chance to shut the critics up at 30 mins. Somehow he managed to miss a comfortable one on one chance.
It's really surprising how a player with Griezmann's quality is still not able to get his form when he puts on the Blaugrana colours. Rued chances came back to bite us in the second half as the first half ended goalless.
Our first half was way better than the second, and we clearly missed the Messi-Coutinho-Fati link up. Dembele just back from injury could have done better, but more playtime could get him back in the groove. With holding the position in the centre of the field and failing to make clear cut chances, Barça seemed frustrated by the Getafe defence as they parked the bus once they got the lead early in the second half. We could have even gone two goals down if it wasn't for Cucho Hernández striking the crossbar. Barça could have got an equaliser if they hadn't squandered their limited chances.
Barça is clearly missing a no. 9 to finish off the chances upfront. Coutinho, Fati, Pedri and Trincao should start games more often. De Jong, Busquets and Pjanic seem vital in our midfield and whoever starts have to bring in their A-game on match day.
A disappointing away result, clearly a tale of two halves and Getafe got the better of us.
MOTM: Pedri.
About Post Author