After showing immense quality against Ferensvaros, Barcelona were looking for an exciting win in El Clasico, it sure was exciting, thrilling, but it ended up with rather a disappointment for Barcelona with 3-1 loss.
In this editorial review, our editors will talk about what went wrong in this game.
Syed Abuzar
A Game of Two Halves
What's the best way to ruin our weekend? Well, an El Clasico defeat is more than enough to do it. But, it feels worse when a bad VAR decision is something which initiates that.
Koeman went with a bold approach with a 19-year-old Dest and a 17-year-old Pedri donning the right-wing. The game started on the right note with Fati playing a No 9 role and Coutinho on the left-wing. Benching Griezmann and Roberto in this big game was something none of us had expected.
Barcelona looked balanced since the start of the match. Pedri was very efficient with the ball, and Dest was very efficient. But, Barca conceded the first goal as Benzema squeezed two centre backs towards him, and Valverde used the space to make a run in the box. The goal could have been avoided if Busquets would have tracked the run, but eventually, Madrid made it 1-0.
But, just after 5 minutes, Barca made it 1-1 with Messi releasing Alba, and he squared the ball to Fati, who again proved his worth by finishing it.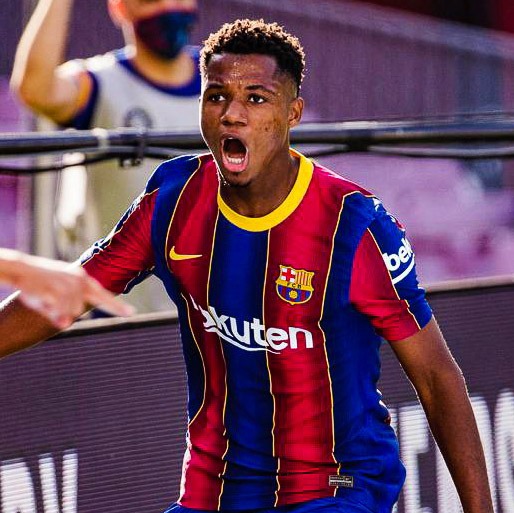 The second half was different. Barca was making excellent chances to make it 2-1, but not a single one of them was not taken. And then it came back to bite Barca but in a controversial way. Lenglet pulled Ramos' shirt in the box, and the Referee after concerning VAR gave the penalty. As the replays suggested, the shirt pull was there, but Ramos didn't go down in that process. As the ball passed him, and Lenglet stopped pulling, he went down. Another controversial call by the Referee.
What's more important than the goals was how Koeman started. He waited till 81′ to make three substitutions which didn't work. It concerns as it looked like Koeman was satisfied with the team even though the team was struggling on the field.
Despite good performances individually, it looks concerning how the defence was easily penetrated. Koeman has many answers to find, and they won't be easy. But, the first-half performance is something to build upon.
Sweta Bhandari
Few things still remain.
The feeling was different upon seeing the lineup. Koeman had made a great decision giving chance to Pedri and Dest ahead of Griezmann and Roberto respectively. Then came the early blow from Fede Valverde from, I would say, mistake from Busquets. Barcelona responded well, and a goal came within 5 mins from a brilliant ball from Messi that ended with Fati netting it sumptuously.
Barcelona was looking good, and VAR ruined all that. The shirt pull from Lenglet was a foul, but the consistency of VAR is what surprises us. Just how many times we have seen VAR interfering just right at the time for Madrid. And, it's not just us who's seeing this. Real Betis posted an image immediately, showing how VAR ignores when the same incident happens with some other teams. But, yeah, it is what it is. Positive from the game is, every player was doing fine before the second blow came in.
Busquets seriously doesn't seem to be at his form anymore, Koeman needs to be critical about who deserves a chance in that double pivot. I also feel like, Koeman should try other formations as well. Dest showed his quality, Roberto can rest well. Pique was solid; he is always prepared for occasions like this. Coutinho had an average game, Pedri could have done better but not as a winger, he prefers playing as CAM. Messi was looking good till the second blow came in. It's just that the story of the first half and second half is entirely different and, it is what that VAR intervention did to Barcelona.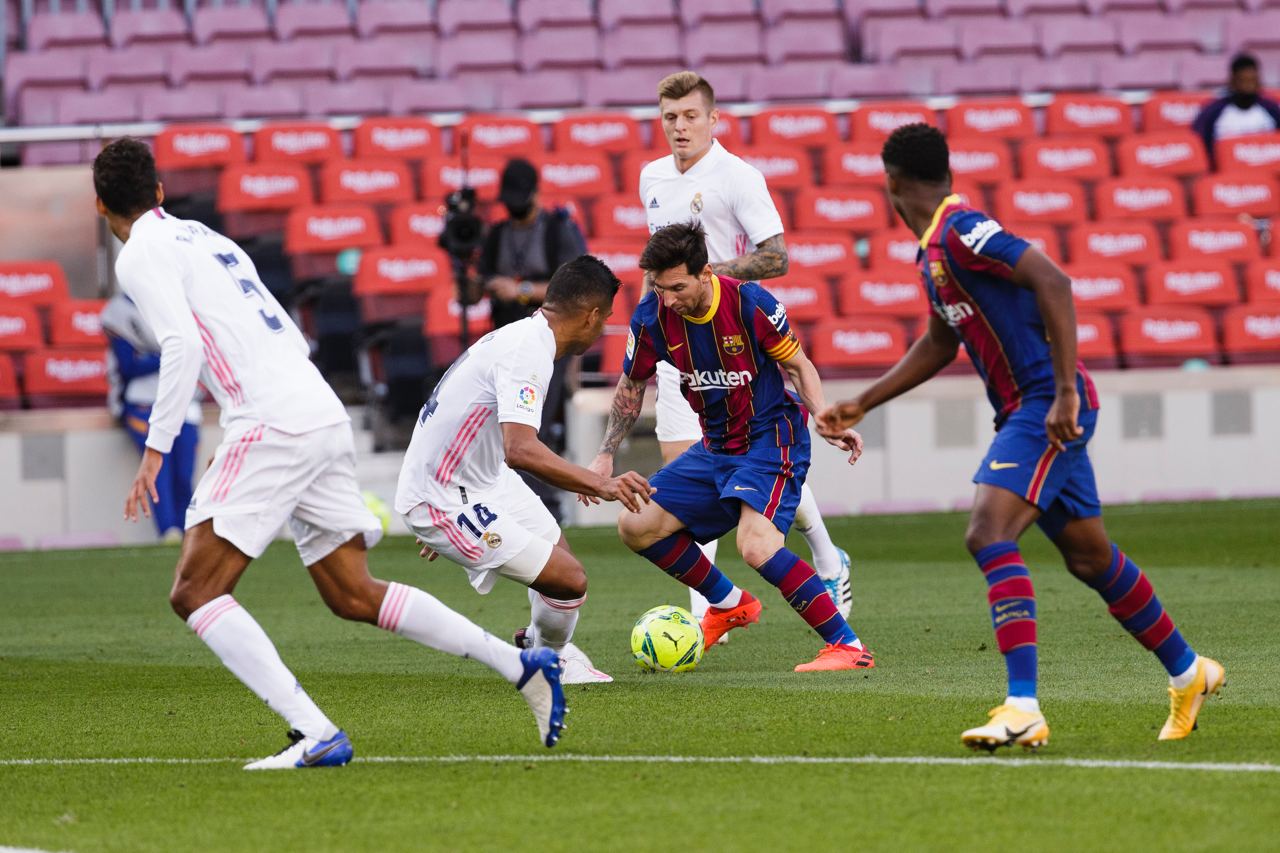 Koeman was late with making changes too, had he made some interventions early on, maybe, with fresh legs, there would have been a chance to turn the game around. It's just sad that the game was going so well till VAR did ugly. But, honestly, nothing surprises us anymore. Let's hope that the mistakes that happened from Barcelona's side, Koeman can study them and make Barcelona do even better than how they are doing now.
There are more games to be played, let's hope for the best.
Conroy
Possession is not making Barcelona win.
The 181st El Clásico, despite being played behind closed doors, had high expectations of being a classic and Football-wise; to be honest, it was a great game.
Heading into the game, both teams having lost their previous league games the pressure was on a high for claiming the bragging rights in Spain. Zidane, holding a 100% record in El Clásico spearheaded this Madrid team on the back of only one win in the previous eight Clásicos.
Koeman's first of many Clásicos had a desire to get the three points in one of the biggest games of his managerial career. A game which started with so much zest, an enthralling eight minutes saw both teams scoring in a span of three minutes. Real Madrid took the lead with Valverde on 5 mins, but Barcelona's youth star Ansu Fati etched the history books once again on 8 mins becoming the youngest scorer in El Clásico as he levelled the scores. Even though Barcelona was rattled early on, the scores getting levelled added the fuel to get the engine running for the home side.
Messi had a fantastic one on one chance which was thwarted by the Madrid keeper Courtois. Minutes later, Benzema forced a save for Neto to be a hero at the opposite end of the Madrid goal. A game played with possession football slowed down after 30 minutes towards the first half, each team waiting for their opponents for a lapse in control. The first half ended all square at 1-1.
The second half started similarly to how the first half ended. Fati and Coutinho came close to giving a lead to Barcelona early in the second half. VAR and Madrid were at it again when a controversial penalty was awarded to Madrid, and Ramos stepped up to give the away side a decisive lead even though we couldn't find that perfection through Messi, Fati and Coutinho; Koeman forced his tactics and gameplay up to 80 mins without making a substitution.
Ansu Fati by far looked the most decisive player for the Blaugrana's. Even throwing all of his cavalries with 10 mins to go; Dembele, Trincao, Braithwaite and Griezmann couldn't help Barça get the all decisive equaliser.
Croatian star, Luka Modric hit the final nail into the Barcelona coffin when he cleverly feinted Neto at 90 mins to hit in the third goal for Madrid which sealed El Clasico in Real Madrid's favour. Even though Barcelona held 52% of the ball possession, still a lack of conversion of chances in the final third cost us another game. I can only be optimistic about Koeman so early in the season to take the positives from the gameplay he is getting out of the youth; Fati, Trincao and Pedri.
El Clásico is lost, but La Liga is far from over, we can want this bunch of players only to lay a rock-solid foundation for their coming games to be able to display the Barcelona class soon.
Disappointed with the result, but honestly content with the football displayed.
Swaroop
A game of errors and room for improvements
So, first of all, Koeman might have made a mistake by playing Busquets. He shouldn't have started as his movement has become very predictable for Real Madrid. Other than a couple of good balls forward, it was an ineffective performance. Pjanic should've started in his place.
We should've stretched Real on the left-hand side a lot more than we did, and I think bringing in Dembele in the last 10 minutes was an attempt to do just that. Pedri did well, contrary to what most fans make of him but didn't do a very satisfactory job on the wings. I would put that mainly on Koeman. And then there are the substitutions. Not only was that triple substitution quite late, but it unbalanced our entire side.
It's still baffling to me how managers think they can throw on Griezmann for a few minutes in depth and hope that he can make a difference. Messi's last games at the club are starting to look more and more depressing. Unfortunately, Madrid put a traffic jam in front of him every time.
Coutinho didn't look as sharp today, unfortunately. Our backline gets exposed quite often, and though Dest did well, centrally we were exposed. Piqué is too slow, Lenglet almost always has to compensate, but gets caught out of position. That shirt tug on Ramos should've been avoided; it was a bad decision to go for the tug. 
This looked like a game to bring in Ronald Araujo; he could've covered more ground with his pace.
The main positives were of Fati showing why he's one of the brightest talents in the world. Dest is showing more defensive capability than our entire backline, not to mention his excellence in tight spots while going forward.
About Post Author