Barcelona vs Villarreal was not just a typical game to start Laliga season 2020/21 for Barcelona; After what had happened, It was a test for The coach, Koeman, The Players and their commitment, especially Lionel Messi. It wasn't an easy game by how Villarreal had managed to take 4 points from possible 6 points from their previous games.
Our editors will discuss how the game turned out for Barcelona under Koeman's leadership in this Editorial review.
SWAROOP
A solid start to a new era
Barcelona seem to have found their long lost rhythm, with this much needed 4-0 victory. It'll certainly add to the team's overall confidence, and they will look to build upon this performance. A good baseline has been set, as to what can be expected from this Barcelona side.
A lot of positives from this Barcelona vs Villarreal game, especially that of the overall performance. One thing to emphasise is the dramatic improvement of the press, Barcelona avoided a lot of pressure at the back by pressing and winning the ball higher up the pitch.
The characteristic of the multi-layered 4-2-3-1 allows multiple levels of press to be executed, eventually leaving the defence with a lot less to deal with. Ansu Fati has been phenomenal as usual, with two absolute bangers. Only makes you wonder if he could be in the race for the Pichichi given he starts regularly.
Not just Ansu, but Coutinho is clearly reaching his real quality, as we see displays of his quality more often with every passing match. Another player to be appreciated is Jordi Alba, he has been crucial to Barcelona's attacks and seemed very up to the task constantly covering the entire flank.
To talk about the substitutes, Pjanic showed why he's the perfect temporary replacement for Busquets, as he's much more mobile and made about three interceptions in 2 minutes since he came on. Frenkie seemed to have a couple of errors towards the end, but apart from that he has been on top form, as the defence-splitting ball through the centre back and the full-back showed us what Frenkie could provide from deep.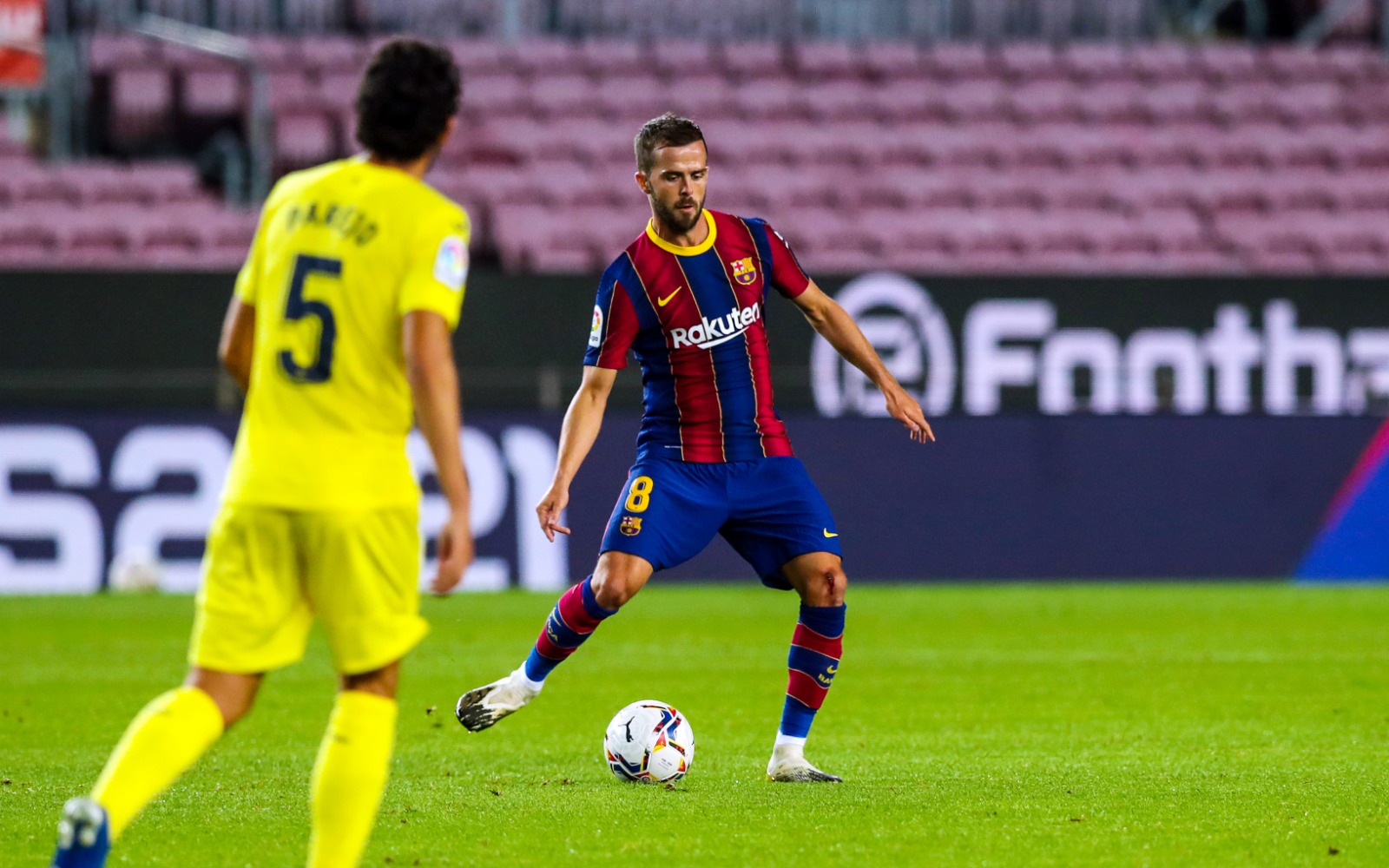 Personally, I'd like to see more of the Frenkie – Pjanic duo, as it seems way more stable than when Busquets was involved. Overall, a solid start to the new era that Barcelona have begun. Barcelona seem to be back to their competitive days, and this will be the expectation they carry, even though it has only been one match in their season so far.
SAHIL
Encouraging win to seal all 3 points:
Barcelona started on a strong foot against Villarreal. The aim was to attack from the left with strong attackers like Alba and Ansu present over that region. The likes of Messi, Griezmann, Coutinho interchanged regularly, but for most of the period, Messi stayed centrally ahead of Coutinho and Griezmann on the right.
The ball circulation was okayish with players making quick one-touch passes.
Once, Villarreal got the ball; they attacked their right space with Chukwueze threatening Alba. But, Barcelona on so many occasions countered from their own half when Villarreal filled most of their player in Barcelona's box. This way, Barcelona did get 2 of their goals from counters.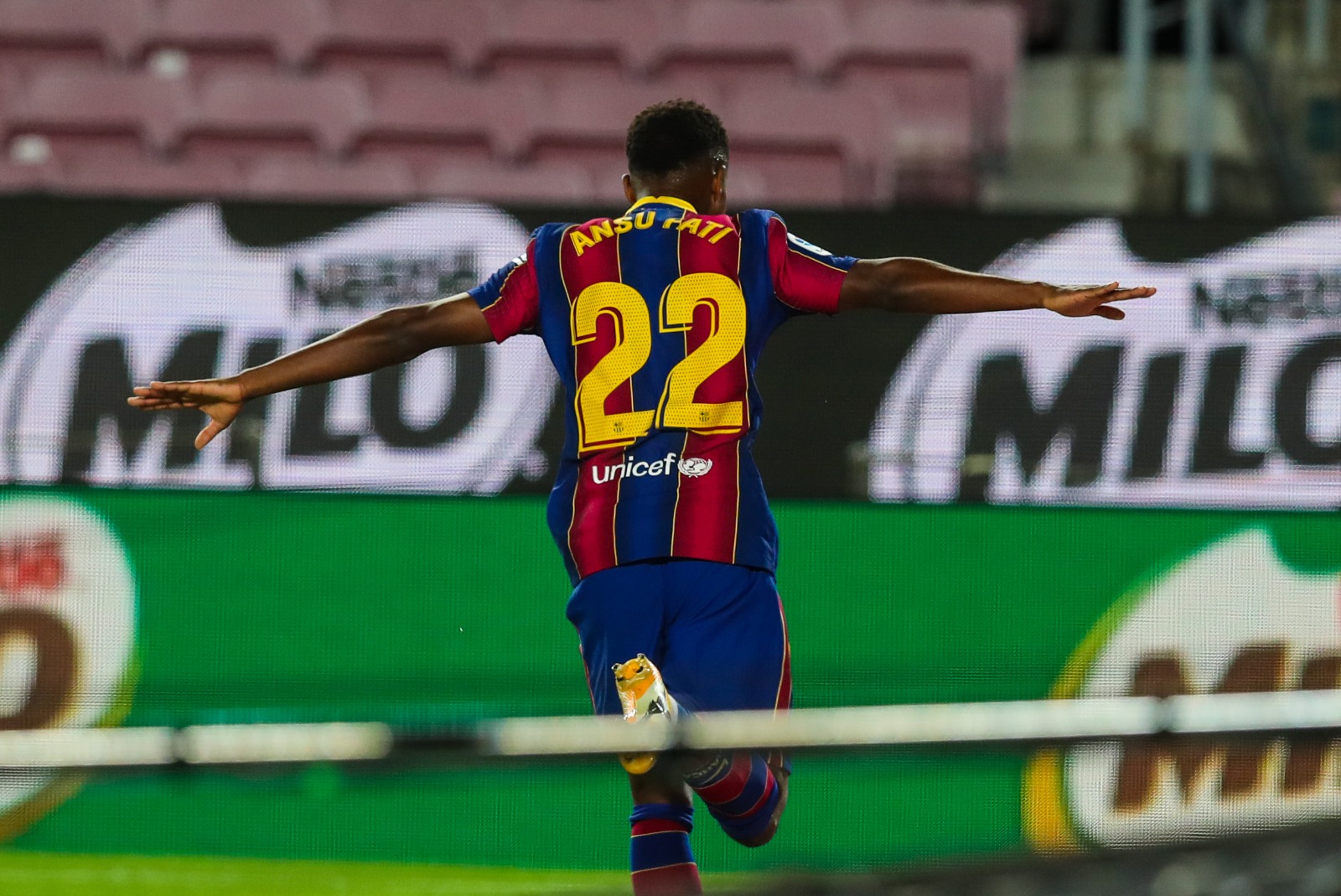 In defence, Pique did most of the job to block every dangerous pass into the box with Alba and Roberto making crucial saves to keep it nil for Villarreal. From the second half, Villarreal saw more of the ball than the first half with Barcelona settling down in a 4-4-2 formation to defend.
Incoming subs of Dembele and Pedri increased the pace of the game in the middle third. With Dembele, he tried to provide more direct and fast options to get closer to the goal. Pedri, on the other hand, was providing correct passes with accurate timings. The Portuguese Trincao showed vital signs on why he should start games for Barcelona.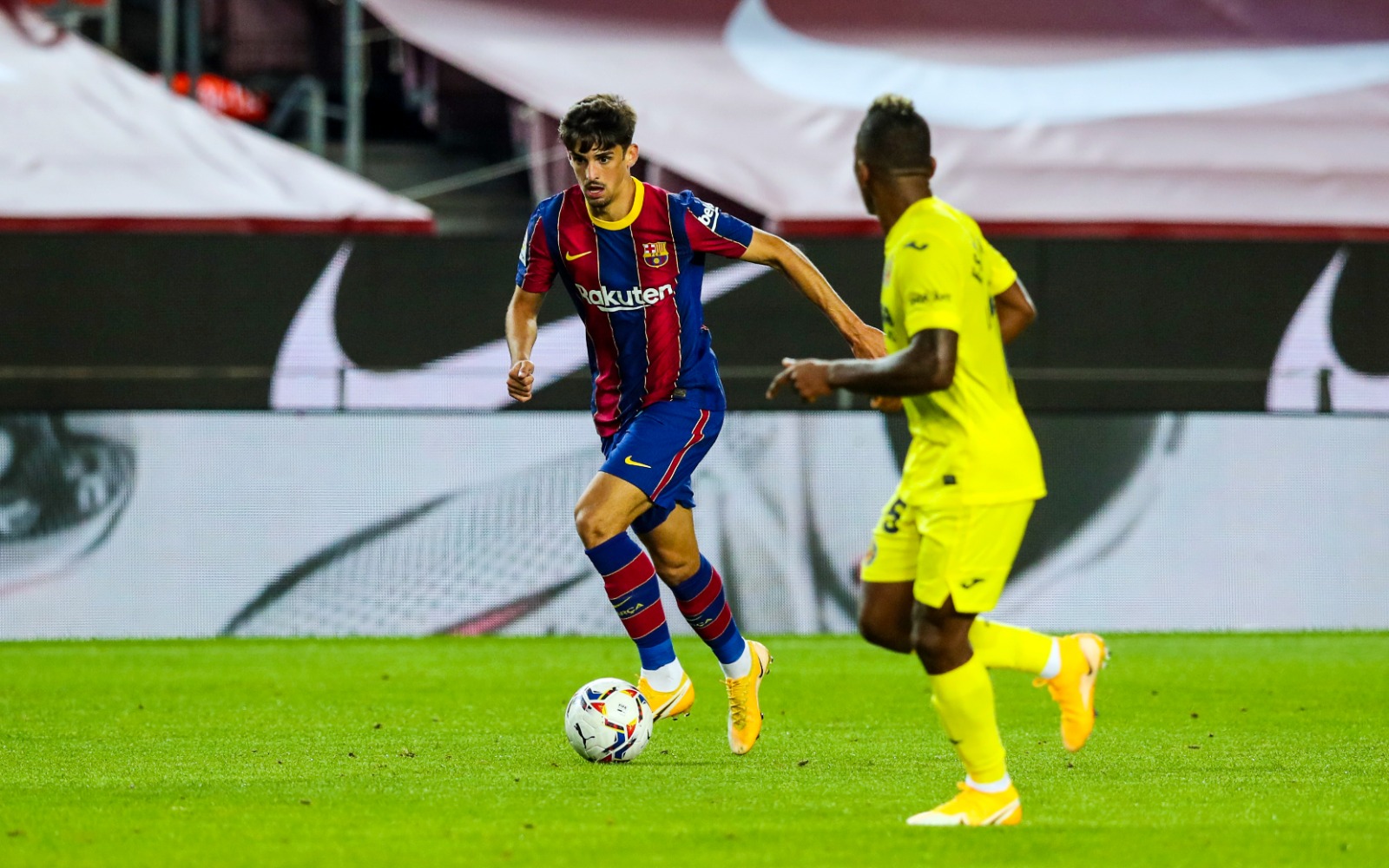 During possession, Trincao made a lot of timed runs in behind to facilitate and free up Messi in the right half-space and help dictate the game. The 21-year-old was also helping the team off the ball and was trying hard to win the ball higher up the pitch. To sum up the match, Koeman got everything right in this game with the team playing with high spirits and great energy.
Fati's performance is very hard to describe as he put up Man of the match performance and giving a strong statement that the golden boy is definitely a future Ballon D'or candidate and can win the award if he continues with this magical form consistently.
SWETA
Koeman knows the ball
The most crucial takeaway from this Barcelona vs Villarreal game was, By 22 mins into the game, we were leading 2-0 and Messi had received only seven passes. Don't forget that this is the same Barcelona team which was totally functioning around Messi for every possible chance created.
4-3-2-1 has totally suited Barcelona; everything seemed to be just right at its place in that formation.
Coutinho was playing as CAM; De jong back at the DM in that double Pivot. You see, these are the small things that had gone wrong under the previous two coaches. Coutinho is more confident; he got more freedom and options to explore as CAM, which he was unable to do before at Barcelona.
De jong had some crucial missed pass in this game, but he had more freedom with the ball. He was moving forward with more confidence and fluidity. I know I should be talking about Fati more, but how Koeman has brought the pace in the build-up, the efficacy with his choices, which is worth mentioning.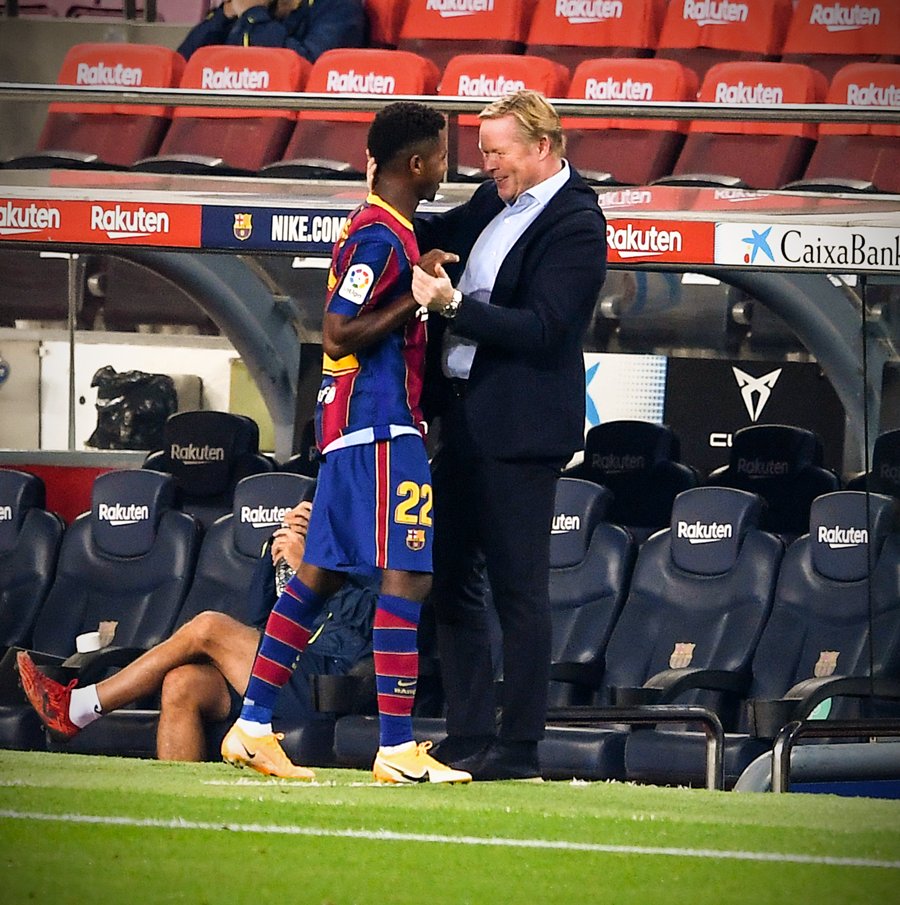 Alba hadn't looked this sharp in a couple of years, more than half of the chances were created from the Left-hand side. Pique was solid as a rock too. Busquets looked sloppy at times, but I am sure there's going to be a competition with Pjanic for the position which was untouchable for him before; So, I believe things will change.
The only problem is Roberto, on the right-hand side. He doesn't have the same pace as Alba, so he seemed to struggle while transitioning from attack to defence. Nevertheless, Dest is joining in for Barcelona, so, hopefully, that can help us strengthen that right-hand side.
The team looked sharp; the players looked committed; Messi looked happy; Fati showed Bartomeu about just why It's so important to have faith in La Masia.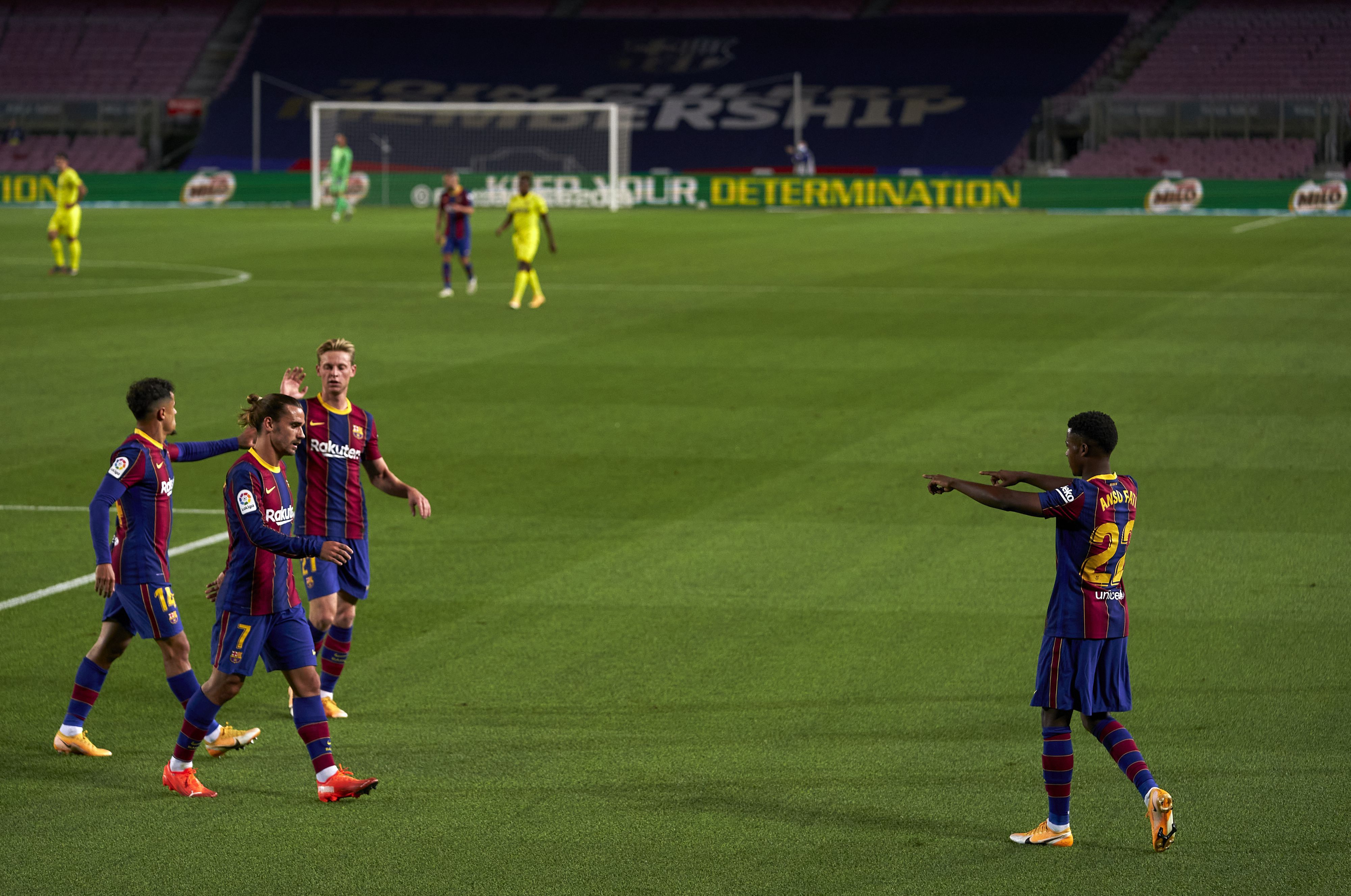 Trincao, Pedri and Dembele were good in the mins they got. Trincao, more importantly, is very confident, skilful and already understands Messi. Even in pre-season friendlies, we have seen that Messi- Trincao connection clicking soo good. Giving Trincao chance at the right flank would make our attack even lethal.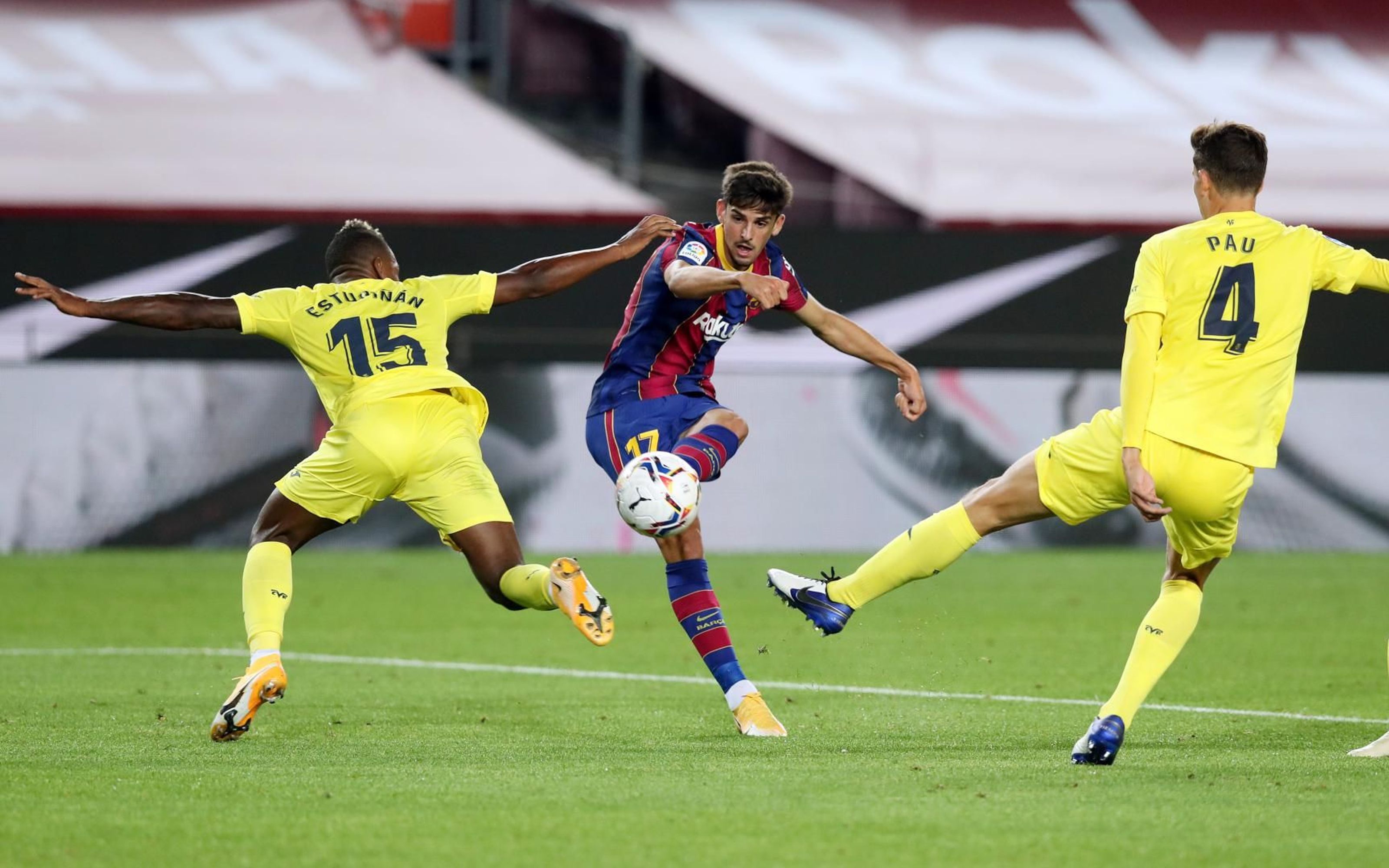 To be honest, We have way too many options up front which makes Barcelona's attack threatening for the opponents. Griezmann has to do better. It's early to say we are good, but there's definitely the spark, and I am sure we are going to have a great season ahead.
SYED ABUZAR
Is the Hunger Back at Barca?
Barca kickstarts their season in style!! A 4-0 convincing win against Villarreal in an empty Camp Nou with Fati scoring 2, Messi, scoring a penalty and an own goal.
As predicted, Koeman deployed a 4-2-3-1 formation with the same lineup as the Gamper Trophy. The start of the game was a bit slow, but a long ball from Lenglet to Alba which ended with a Fati goal changed everything.
Fati was the star of the show. A beautiful finish for his 1st goal, and calmly slotting the ball for his second. He was everywhere. He won the penalty from which Messi scored and was the most convincing player of the first half.
Another player who impressed was Alba. He was combining with Messi and owned the left flank. Majority of the attack of Barca came from the left side. But still, there are some problems to look into.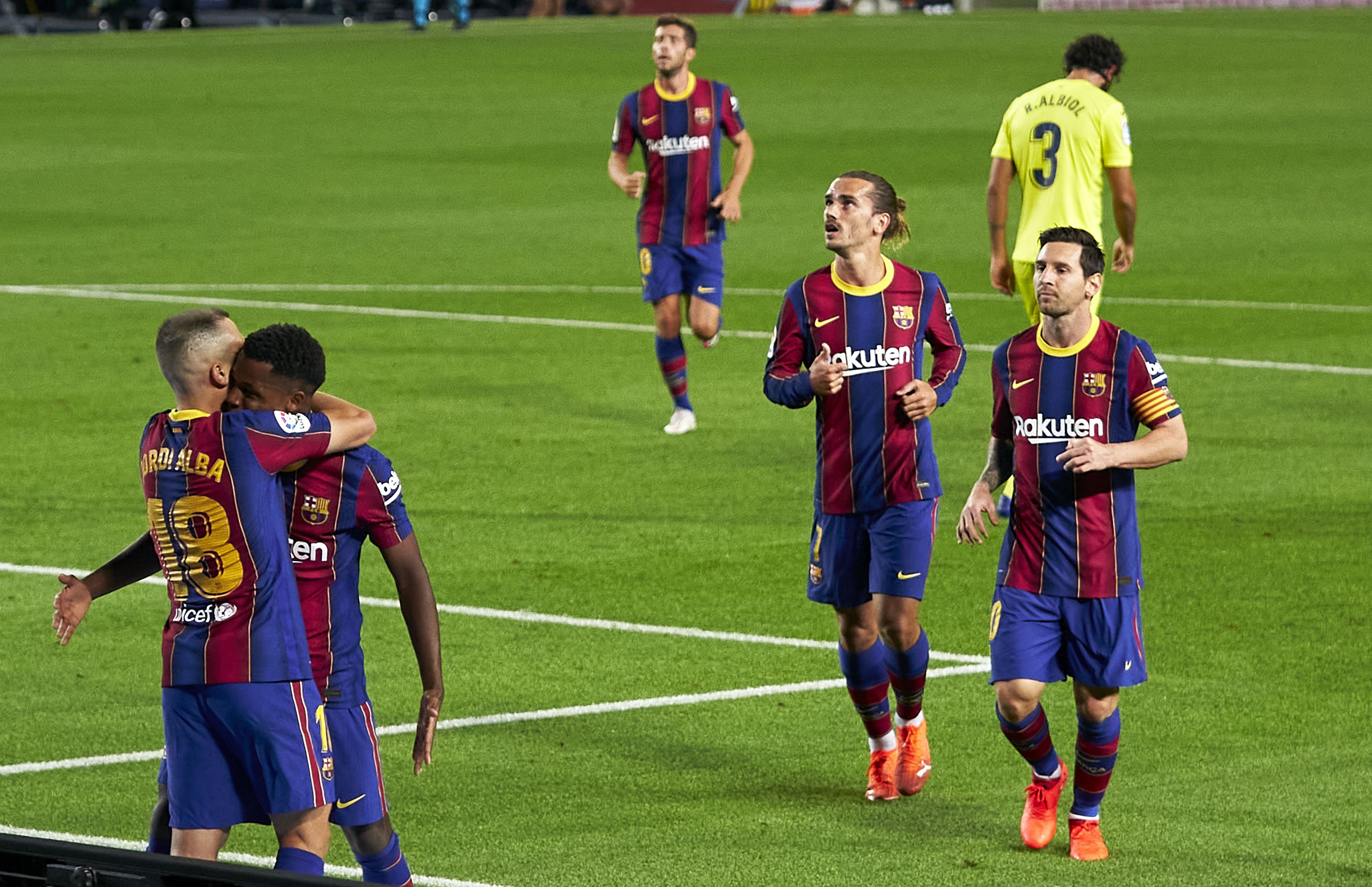 Messi, along with Coutinho, was OK in the first half but improved in the second. Busquets, despite being on the ball, was sloppy, and Pjanic looked far better after he stepped on the pitch. Griezmann was somewhat lost, and it was as if he didn't know his position. Barca looked a far better team after Trincao came in as he dominated the right flank.
Neto, whenever called upon, did his job. Lenglet and Pique were solid at the back. But Roberto on the attacking front was none. Overall a good performance but Barca will undoubtedly look better with a better RB and if Pjanic starts in place of Busquets.
CONROY
BIENVENIDO A LA ERA KOEMAN
Boom! And that's how Ronald Koeman's Barcelona have started their La Liga campaign this season. I had been optimistic about how the team would perform in competitive matches as they barely played three pre-season games under Koeman. The Dutch tactician May have just perfected his 4-2-3-1 formation and injected life into the dead souls of the Barcelona team from last year.
Ansu Fati, all of 17 years getting his due promotion into the senior team along with new signings Pedri, Trincao and Pjanic were included in Koeman's squad for the game. Busquets and De Jong looked comfortable in midfield with Jordi Alba doing what he continues to do year-on-year down the left flank. Watching his performance, he seemed to be the fittest he has been since the past few seasons. Busquets pressing up the pitch along with the strikers and De Jong playing in deep ahead of defence seemed to be working just perfectly throughout the game.
Stealing the limelight of the game, youngster Ansu Fati looks to be a future Barca star. The composure, calm and finesse at his age is simply brilliant. Fati slammed one in from a typical Jordi Alba cut back cross from the left flank to begin Barca's goal campaign for the season and slotted in another,  minutes later and went on to earn the team a penalty just midway through the game. Over to you, Lionel Messi. Without any doubt, Messi put away the penalty and has made La Liga his league by now scoring in 17 straight seasons.
An own goal added the goal tally to four and Barca was already in control of their first game under Koeman. A lot who had doubted this teams performance was left surprised.  Watching Coutinho playing with so much confidence on the ball, hoping the Brazilian gets his groove back as the season waves through. De Jong and Busquets did the job in midfield and the defence did not have much to bother them.
Looking at Barca's bench, it's a feeling of comfort that we can go to Pedri, Trincao, Pjanic and Dembele who we can count on. Controlling and finishing off the game in the second half, Pjanic looked good taking over Busquets's role and the other 3 subs showed us a glimpse that we are READY to COLOUR FOOTBALL again.
The future looks bright as sergeant Koeman looks to be in control of his troops.
MOTM: FANTASTIC FATI. A scintillating first- half performance by Fati has to earn him my MOTM
Barcelona vs Villarreal was hopefully the trailer; There's more to come!
Visca El Barca!
About Post Author