In our previous post, we looked at two of Barcelona B's best talents: Riqui Puig and Alex Collado. Now, we will look at Monchu and Jandro Orellana as players that will take Barcelona into the future generation.
Monchu
Monchu is the leader of Barcelona B. He is the captain and the player with the most minutes for Barcelona B. He is the top scorer for the team, netting in ten goals this season and racking up three assists in the games he has played so far. He has not been spoken about for a shout for promotion despite being one of the best players for Barcelona B.
Monchu clearly has the skills to play for the main team, with his great technical ability for his level. He only has played one game so far for the main team, with a cameo against Napoli.
Monchu is a player with great ability to pass the ball around the pitch as the distributor. Monchu can play one-touch passes and find his teammates in tight spaces regularly. He's also great at finding teammates with long balls forward with pinpoint accuracy.
His off-the-ball movements are great too, dropping back deep when required to support Jandro Orellana and moving forward to attack the opponents alongside Puig, Collado and Kike Saverio. Monchu is good at shooting as well, as we can see with his ten goals so far this season.
Monchu has a quality that most players his age do not- Passion and Maturity. Monchu is clearly beyond his years in terms of character and personality. He is competitive and hungry, with a high work-rate and an admirable work ethic. These qualities are difficult to find in someone of his age and are reminiscent of a younger Thiago.
The question of whether Monchu should be promoted to the Blaugrana main team is a no-brainer, but if he will is very much dependent on how Ronald Koeman wishes to integrate Monchu into the midfield and distribute his minutes.
Jandro Orellana
We looked at Riqui Puig in the previous post and just looked at Monchu. The final midfielder in this piece is Jandro Orellana. Orellana was born on the 7th of August, in the year 2000, making him the youngest in his batch of midfielders making their shot to promotion. After Oriol Busquets was sent on loan to Twente, Orellana was promoted to Barça B and has stayed there ever since.
Orellana is the pivot to Barcelona's midfield. He helps in circulating possession of the ball and is advantageous in build-up play by dropping between the two centre-backs when the full-backs are attacking or waiting in front of the defensive line. Due to his passing range, he is well-versed at initiating attacks for Pimienta's side, which prefers playing out from the back.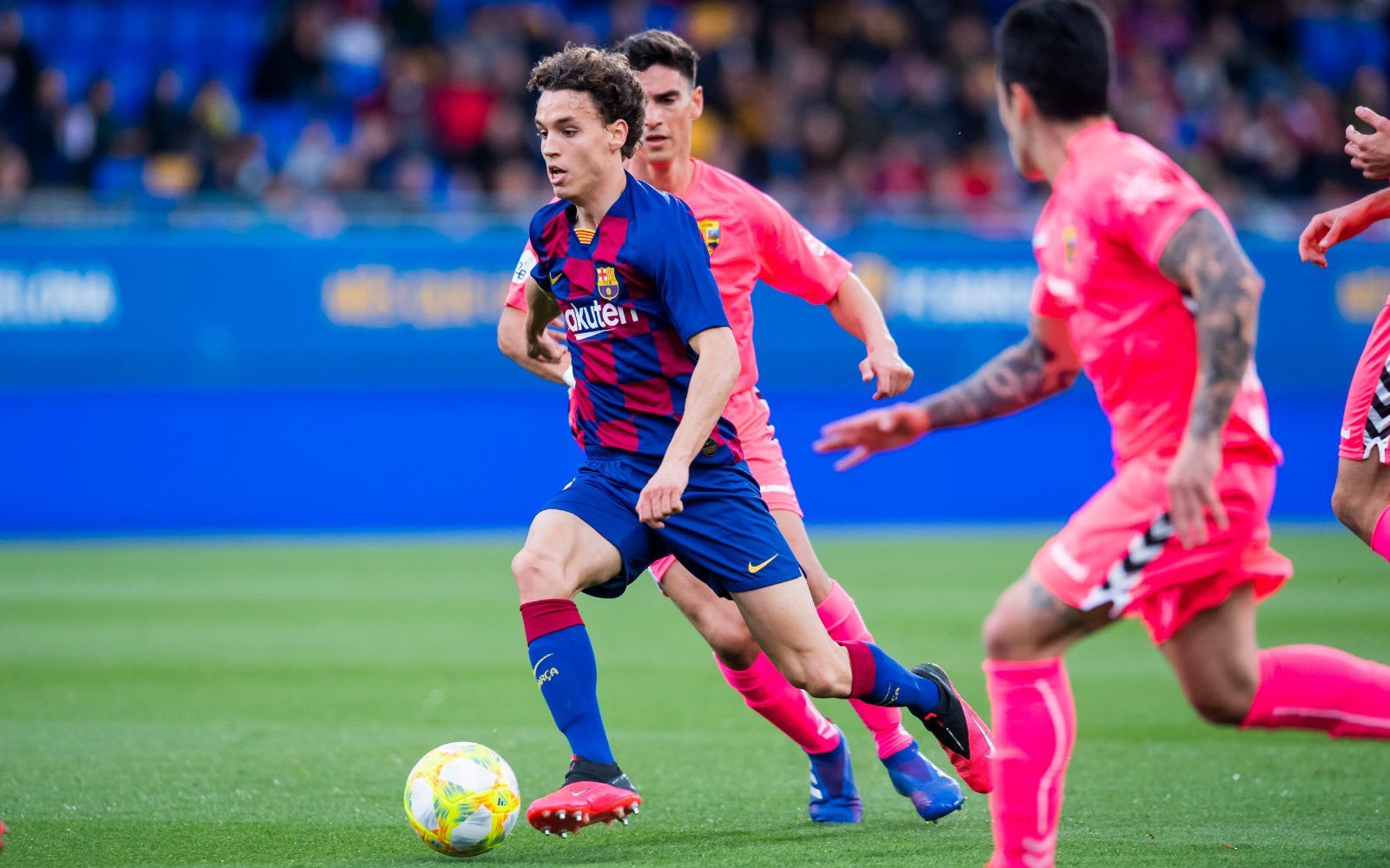 Orellana was playing in the midfield three as an interior midfielder for Juvenil A, where he clocked seven goals and seven assists in one season.
However, to accommodate Monchu and Riqui Puig in the midfield, Orellana was moved to the holding midfield position. This has helped Orellana is his greatest strength, tactical knowledge.
Like Sergio Busquets in his younger days, Orellana is tactically astute. The similarities in playstyle between them are uncanny. Orellana is great at picking out that pass by knowing when to find his team-mates based on their position. He is also minimally on the ball, meaning that he takes one touch to receive the ball and one to release it to his team-mates.
Jandro Orellana (@JandroOrellana6) vs. Badalona (15/01/2020).

One of his best matches in Barça B. I can say that probably the best. Great in defensive aspect. Positioning, intelligence, calm with the ball at his feet… Jandro gets better with every match. 💪🎩 pic.twitter.com/e1YwVBpncc

— Piotr Guziński (@Nyctophile1_) April 21, 2020
When in defence, Orellana is calm and anticipatory of the ball. He makes the ideal defensive midfielder, as he can make interceptions quickly and press his opponents to get the ball back and start a new attack.
Orellana's quality is undeniable and should be seen as a long term heir to Sergio Busquets, where he can play in a double pivot with Frenkie De Jong in the main team.
About Post Author