6 key negatives of Koeman at Barcelona: Detailed Analysis
5 min read
Koeman at Barcelona: Analysis
Koeman's journey as a Barcelona coach is much discussed ever since. A lot has happened at Barcelona, The Champions League back to back humiliation, followed by Lionel Messi's wish to leave, Motion of No Confidence; there's no end to the series of events that keeps happening at FC Barcelona.
Under such circumstances, we have Koeman as our coach, The Dutchman, ex- Barca defender with a glorious history at Football Club Barcelona, there sure would be talks. Koeman had a brilliant opening of Laliga with 2 wins and 1 draw facing some of the difficult opponents of the League. But they were defeated against Getafe which says things are still not perfect under Koeman. In my previous article, I have talked about the positive aspect of Koeman and his work.
Here, I will talk about the negative aspects, the flaws of Koeman at Barcelona.
Not counting on Puig.
One of the most disappointing trait of Koeman is his lack of faith in Riqui Puig. There was lots of talk about Koeman willing to see Puig out on Loan for so-called development instead of giving a chance here. Puig was firm on his desire to stay, but we have already seen from a few games that he doesn't count on Puig.
In this particular 4-2-3-1 formation, the excuse might be that we already have a proper option in the midfield for this particular formation, but, it's absolutely ruthless to think that Puig doesn't have potential to have some mins for this team. Puig has that typical La Masia gene; he's creative, he understands Messi well, he's confident with difficult up-front passes, he's exactly the kind of partner Messi needs to create chances for the team. Coutinho has been brilliant, Pedri is showing his spark, but, Puig deserves mins too.
Dilemma about Griezmann.
Griezmann hasn't been able to play up to the par for Barcelona. Sometimes, an excuse is the pressure, sometimes the position. I feel like, with the price tag, and with the number of chances he has been given already, it won't be a bad thing to bench him often.
Griezmann mostly played as RW under Koeman, which is Messi's preferred position, which makes it difficult for Messi to play his game. He was also tested in the role he preferred in the game against Getafe, but he was unable to make his mark. Koeman needs to sort out things related to Griezmann; if Puig doesn' deserve mins because he's up to the par, then I don't understand why Griezmann would start game after game with the quality he has shown so far.
Koeman is predictable.
In laliga, most of the teams play with the high defensive line. As we saw against Getafe, after their opening goal, they almost settled in and were defending that single goal lead. It's very difficult to break through against such an opponent, especially if you are predictable. Even we can predict the lineup Koeman is going to choose, we already know he's sticking with 4-2-3-1 formation, and this isn't a good sign.
Sometimes, he should surprise the opponent with different formation. For example, 4-3-3, this might work too with, Fati, Griezmann, Messi up front, Coutinho, Busquets/De jong, Puig/Pedri in the midfield and the usual defence. Or, he could also try 4-2-2 at times with Fati and Messi up front, Coutinho, Puig, Busquets, De jong in the midfield. He isn't doing much experiments with formation. The squad we have, there are just way too many probabilities, but he is going with an almost the same lineup with the same formation in every game. This allows the opponent to study him and come up with better ideas to beat Barcelona.
Busquet's consistency in starting lineup.
Busquets has been a very critical player for Barcelona for a long time. He's good, excellent with the ball, but, provided that the opponent isn't applying much pressure. Once under pressure, he doesn't do well. For 4-2-3-1 formation, it would be wiser to use De jong and Busquets separately, as for example, in one game, Busquets starts as that DM of the double pivot, and is later replaced by De Jong, or vice versa. Moreover, Busquets is ageing, he isn't that physical kind of player, so, it's essential to limit his mins to bring the best out of him in my opinion.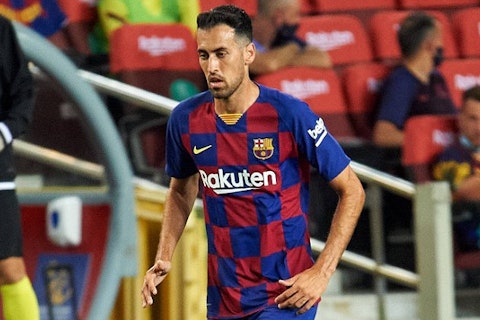 Moreover, starting Busquets only or De jong only allows Barcelona to give Pjanic his role in the double pivot alongside them. Playing Busquets over and over is only going to tire him out allowing him to be a worse version of himself as we are seeing more often these days. Busquets is one of the best DM ever, but he needs to rest a bit more than before.
Roberto's place in the team.
One of the key problem in current Barcelona is, Roberto. Roberto is weak defensively and hasn't created much for Barcelona, on the other hand, Alba was looking sharp under Koeman till he got injured. One of the reasons Messi hasn't seen much involved in games under Koeman is because Roberto hasn't been able to be an appropriate partner coming from the right side.
Alba, Coutinho and Fati were brilliant in few games as because they linked well from the left side. Dest debuted against Getafe as a LB, contradicting to his usual position which is RB, and already showed his quality. He makes those runs, he's quick and has the potential to replace Roberto, to be honest. We will have to see if Koeman will give chance to Dest over Roberto or Dest will be dusted in bench after Alba returns.
Messi is not a robot.
One of the common thing about Koeman and previous coaches is, Messi is always their golden bait. We definitely saw Barca trying to do something without involving Messi under Koeman in compared to previous few years; but, Messi will be out there playing for whole 90 mins every game, because for the coach if nothing, there will be some moment of inspiration from Messi that can change the game. It is a good thing, a good trait from Barcelona's perspective but, Koeman needs to be careful about the much he's asking from Messi.
Messi had a difficult game for Argentina against Bolivia under very difficult circumstances, yet he played for whole 90 mins. And Koeman openly said, Messi is a fighter, he won't like if he isn't playing. Messi should be given rest from time to time, and it's not like, we don't have any option to fill Messi's place, Trincao can sometimes come up for Messi to give him some rest. Koeman needs to know that Messi isn't a robot, he needs rest to bring the best out of him.
There are few things that feel like they are out of shape, but there are some bright points as well. I think with time and faith, things will start to even get better for Barcelona under Koeman.
 Faith is what keeps us going, Let's hope for the best!
Visca el Barca!
About Post Author